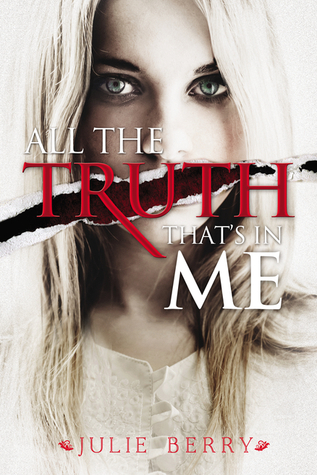 All the Truth That's In Me by Julie Berry
Publisher: Viking Books
Publishing Date: Sept 26, 2013
274 Pages
Format: paperback, won
Links:
Goodreads
|
Amazon
|
B&N
Goodreads rating: 4 stars
Four years ago, Judith and her best friend disappeared from their small town of Roswell Station. Two years ago, only Judith returned, permanently mutilated, reviled and ignored by those who were once her friends and family. Unable to speak, Judith lives like a ghost in her own home, silently pouring out her thoughts to the boy who's owned her heart as long as she can remember—even if he doesn't know it—her childhood friend, Lucas. But when Roswell Station is attacked, long-buried secrets come to light, and Judith is forced to choose: continue to live in silence, or recover her voice, even if it means changing her world, and the lives around her, forever. This startlingly original novel will shock and disturb you; it will fill you with Judith's passion and longing; and its mysteries will keep you feverishly turning the pages until the very last.
I believe I won this book last year some time, but I honestly can't remember who I won it from or when, so if I won it from you, thank you!!
This book sounded so interesting when I entered the contest, and when I won, I was very excited. I had read the synopsis, but when I started reading this book, it was so different from what I expected! This book takes place in another time (another world possibly?); Judith lives with her mom and brother. She was kidnapped and held captive for years but when she returns home, she doesn't receive a warm welcome. Her mom is ashamed of the fact that Judith can't speak, or speak very well, so she forbids Judith from communicating with anyone.
This book is told from Judith's perspective in 2nd person point of view. I don't think I've read anything in this point of view before. It was really interesting to read and I thought it made the story much more compelling. The way the story is written is as if Judith is writing a journal to the boy she loves, Lucas. This story was also so different from anything I've read before. The setting of the story was very unique and original, and the characters were quite interesting. I empathized with Judith because she wanted so badly to fit in and make friends, but is terrified of what people will think of her. After a great deal of confusion and miscommunication, Judith finally gets the life that she's always wanted since she returned from being held captive.
I really enjoyed this book and look forward to hearing more from Ms. Berry.