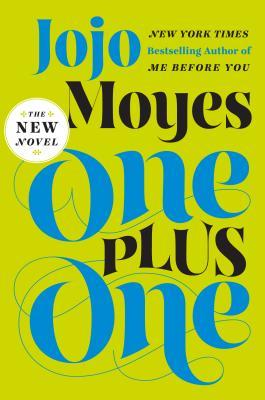 One Plus One by Jojo Moyes
Publisher: Pamela Dorman Books
Publishing Date: July 1, 2014
Format: hardcover, gifted
368 Pages
Links:
Goodreads
|
Amazon
|
B&N
Goodreads rating: 5 stars
One single mom. One chaotic family. One quirky stranger. One irresistible love story from the New York Times bestselling author of Me Before You.
Suppose your life sucks. A lot. Your husband has done a vanishing act, your teenage stepson is being bullied and your math whiz daughter has a once-in-a-lifetime opportunity that you can't afford to pay for. That's Jess's life in a nutshell—until an unexpected knight-in-shining-armor offers to rescue them. Only Jess's knight turns out to be Geeky Ed, the obnoxious tech millionaire whose vacation home she happens to clean. But Ed has big problems of his own, and driving the dysfunctional family to the Math Olympiad feels like his first unselfish act in ages... maybe ever.
Me Before You is one of my absolute favorite books. I really think it might be THE favorite of mine ever! (: So I absolutely couldn't wait to get a copy of this one by Moyes. I had been waiting since this was release to get a copy! Then I got it as a gift for Christmas and I couldn't wait to read it! Unfortunately, life got in the way... buying a house, moving in, doing some remodeling and other house projects..But I finally started reading it when I suggested my book club pick it for July. I was so excited to dive in!
This book didn't disappoint me one bit. All of these characters were so interesting and unique. Jess is a single mom to her young daughter and teenage step-son. Her husband up and left them, doesn't work and doesn't pay any child support. Jess is trying to give him the benefit of doubt because she believes he's suffering from a mental break. But she still has to do what's right for her kids. I love that she takes care of Nicky like he's own her own flesh and blood. She sticks up for him like no one else will. Tanzie is such a sweet little girl. She's super intelligent and looks at things in a different way; and Jess embraces that whole-heartedly.
Ed is different. He seems quiet and soft-spoken, yet very bright (obviously since he and a friend created their own company!). But he clearly doesn't make the best decisions all the time and they have landed him in a bit of trouble. He makes a spur of the moment decision to drive Jess and her kids to the Math Olympiad and his life is never the same after.
What I really loved about this book was the different types of characters. Some are so serious, some playful, some funny. They all fit each other really well and play off each others' strengths; they complement each other. Plus this book was funny! I wasn't expecting it, but there were so many times that dry humor crept through and I found myself literally laughing out loud. I'm sure my husband thought I was a little strange since it would just be quiet and then I'd be laughing.
This book really had it all: serious issues, drama, family feuds, comedy, and (probably my favorite) romance. I highly, highly recommend this book. It fast rose up to the near top of my list and I can't wait to read what else Moyes has written. The Girl You Left Behind is sitting on my shelf just waiting for me to pick it up and I know it won't disappoint.