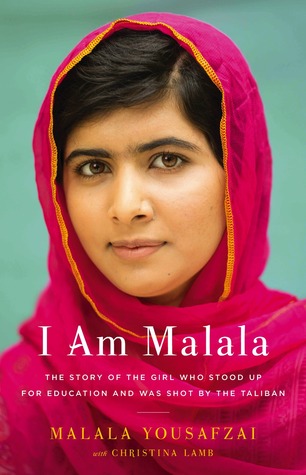 I Am Malala by Malala Yousafzai
Publisher: Little, Brown, and Company
Publishing Date: Oct. 8, 2013
327 Pages
Format: hardcover, library
I come from a country that was created at midnight. When I almost died it was just after midday.
When the Taliban took control of the Swat Valley in Pakistan, one girl spoke out. Malala Yousafzai refused to be silenced and fought for her right to an education.
On Tuesday, October 9, 2012, when she was fifteen, she almost paid the ultimate price. She was shot in the head at point-blank range while riding the bus home from school, and few expected her to survive.
Instead, Malala's miraculous recovery has taken her on an extraordinary journey from a remote valley in northern Pakistan to the halls of the United Nations in New York. At sixteen, she has become a global symbol of peaceful protest and the youngest-ever Nobel Peace Prize laureate.
I Am Malala is the remarkable tale of a family uprooted by global terrorism, of the fight for girls' education, of a father who, himself a school owner, championed and encouraged his daughter to write and attend school, and of brave parents who have a fierce love for their daughter in a society that prizes sons.
I Am Malala will make you believe in the power of one person's voice to inspire change in the world.
Unfortunately, I didn't finish this book; but before anyone gets upset, I just want to say that it's not Malala herself that I didn't like (I think she's incredibly courageous), it was the book. I found myself getting bored with the history and politics of the book. The first chapter was very interesting and started out with the day that she was shot. But then it went into the history of how Pakistan was created, the political atmosphere, etc. I wasn't that interested in it. I wanted to learn more about Malala, not her country's history, because, while I think that's very important, I can look that up on the internet. I set the book down one day when I needed to do something, and didn't pick it back up. Then I got the notice that it was due at the library and I returned it. I feel really bad - I wanted to love this book so much because I think she's fascinating. The book just wasn't doing it for me.