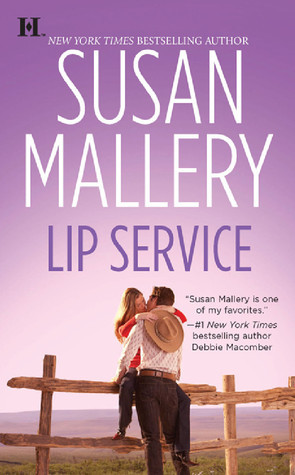 Lip Service by Susan Mallery
Series: Lone Star Sisters, #2
Publisher: HQN
Publishing Date: June 1, 2009
366 Pages
Format: paperback, purchased
Links:
Goodreads
|
Amazon
|
B&N
Goodreads rating: 3.5 stars
Skye Titan's wealthy father thinks he can still dictate his daughter's choice in men. Now widowed and a single mother, Skye isn't the yes-girl she once was. Especially since the love of her life is back in Texas after eight long years. He won't like the answers to the questions he's asking. About why she left him at the altar. And about her eight-year-old daughter.
Former navy SEAL Mitch Cassidy comes home to find nearly everything different. His wounds from battle have changed the way people treat him. His cattle ranch is suddenly organic. But time hasn't touched his desire for Skye -- or the sting of her betrayal. Forget lip service. He's asking that luscious mouth of hers to reveal the truth. But will Mitch be able to put the past aside to help Skye get out from under her father's thumb and help himself recover from a broken heart?
I was really in the mood to read a romance novel, so I went to the book store and picked one up that sounded interesting. I had heard of Susan Mallery before as a romance novelist, but haven't read any of her work.
This was a pretty good book. I love stories about couples that knew each other/date previously, lost touch for whatever reason, and then get back together. I just find it so sweet and makes me think that if you're meant to be with someone, somehow it will happen. Yes, I understand it's just fiction, but it still gives me a little hope for all those people out there!
Skye has an interesting lifestyle; she's very wealthy and lives at home with her dad, sister and young daughter after her husband died. Despite being very wealthy and not needing to work, she starts a non-profit foundation for feeding hungry children. She leads a very different lifestyle from what her father wants for her. And to sum it up, he's a jerk. He just wants to bully his kids and everyone he knows into doing what he wants. While this is all going on, there's a little something else with a long-lost family member, but I can't divulge to much without spoilers!
On the other hand, Mitch is an injured Navy veteran who has a big chip on his shoulder and he doesn't care who he hurts when he comes home, especially Skye. But he soon realizes that there's more to life than being angry all the time. It's really interesting to watch him and Skye interact with each other. We watch as they both let go of anger and learn to trust each other and while it's sometimes heartbreaking, it's fun to watch!