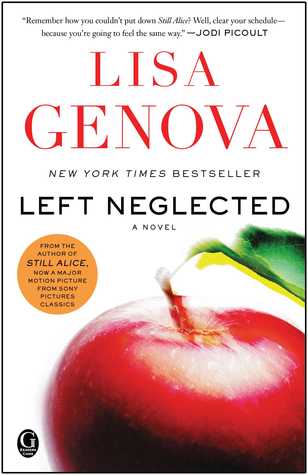 Left Neglected by Lisa Genova
Publisher: Gallery Books
Publishing Date: Jan. 4, 2011
322 Pages
Format: paperback, purchased
Links:
Goodreads
|
Amazon
|
B&N
Goodreads rating: 3 stars
From Lisa Genova—whose novel Still Alice is soon to be a major motion picture starring Julianne Moore, Alec Baldwin, Kate Bosworth, and Kristen Stewart—comes this New York Times bestselling novel of resilience in the face of a devastating diagnosis. A vibrant mother in her thirties learns what matters most in life when a car crash leaves her with a traumatic brain disorder called "left neglect."
Sarah Nickerson, like any other working mom, is busy trying to have it all. One morning while racing to work and distracted by her cell phone, she looks away from the road for one second too long. In that blink of an eye, all the rapidly moving parts of her over-scheduled life come to a screeching halt. After a brain injury steals her awareness of everything on her left side, Sarah must retrain her mind to perceive the world as a whole. In so doing, she also learns how to pay attention to the people and parts of her life that matter most.
In this powerful and poignant New York Times bestseller, Lisa Genova explores what can happen when we are forced to change our perception of everything around us. Left Neglected is an unforgettable story about finding abundance in the most difficult of circumstances, learning to pay attention to the details, and nourishing what truly matters.
For those of you who follow or have read posts on my blog, you probably know that I'm a big fan of Lisa Genova's work. I really loved
Still Alice
and
Inside the O'Briens
was another great work as well. I knew when I saw this one on the shelf that I had to grab a copy. I love how she takes this very real, very scary disorder, and creates a captivating book. I love learning about these disorders, but it also makes me very sad for those that have to endure these difficulties. I can't imagine not being able to see or use anything on the left (or right) side of your body. It's a crazy concept to me and I've never heard of anything like it.
The characters in this book are really sympathetic too. All Sarah wants is to go back to her normal life that she's used to. But after the accident, she has to learn that she can't pick up where she left off. It's sad to watch her struggle through the daily tasks of walking, eating everything on her plate, using both hands, etc. And her husband is really great to her. Sure, they struggle with her new disorder and it's something they both have to cope with, but he does everything he can to make things easier, including covering their house with florescent tape to help her see things easier.
The title of this book is very creative and the storyline is incredibly original. If you're looking good medical-type book, this is one I'd recommend. If you're not sure about the medical language and aspects of the book, don't let it scare you away! It's truly a good book and very eye-opening.