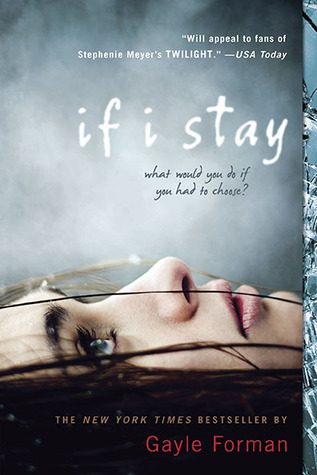 If I Stay by Gayle Forman
Publisher: Speak
Publishing Date: April 6, 2010
262 Pages
Format: paperback, purchased
Links:
Goodreads
|
Amazon
|
B&N
Synopsis
On a day that started like any other...
Mia had everything: a loving family, a gorgeous, adoring boyfriend, and a bright future full of music and full of choices. Then, in an instant, almost all of that is taken from her. Caught between life and death, between a happy past and an unknowable future, Mia spends one critical day contemplating the only decision she has left - the most important decision she'll ever make.
Simultaneously tragic and hopeful, this is a romantic, riveting, and ultimately uplifting story about memory, music, living, dying, loving.
My Review
This is a good book. Unfortunately, for me, it wasn't a great book. I'm sure I'm one of the few people that feel this way, too. My expectations were high for this book; I had read so many reviews about it, so I couldn't wait to start it. I'm pretty sure that's the reason it wasn't as great for me. So many times, not all, but many times I get really excited to read a book, I feel like I don't love it as much as everyone else. My other thought is that it took me a while to finish this book. As a previous post of mine on my blog, I've been super busy lately with wedding plans since its just three short weeks away! This is making it take longer for me to get through books and consumed so much of my time. Maybe if I had read it all within a few days I would have enjoyed it more.
That being said, I still really liked this book! The story is heartbreaking - how do you choose between leaving your life behind or staying after everything has changed so much? The characters are pretty well developed and I enjoyed getting to know them. I think Teddy is a cute younger brother and reminds me of mine, although he's now 23! And her parents are fun and loving people, even a little hippy, which I found very entertaining! I also really envy Mia's character in her cello abilities! I can't play an instrument to save my life, so anytime I hear about someone who can, I'm instantly jealous! haha I really want to read the next book in this series! It will probably be a while before I have a chance to get a copy and read it, but I think it will be a good follow-up to this one! (: