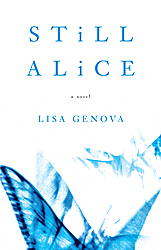 Still Alice by Lisa Genova
Publisher: Pocket Books
Publishing Date: 2007
Format: paperback, purchased
292 Pages
Links:
Goodreads
|
Amazon
|
B&N
Goodreads rating: 5 stars
Alice Howland is proud of the life she worked so hard to build. At fifty years old, she's a cognitive psychology professor at Harvard and a world-renowned expert in linguistics with a successful husband and three grown children. When she becomes increasingly disoriented and forgetful, a tragic diagnosis changes her life--and her relationship with her family and the world--forever.
At once beautiful and terrifying, Still Alice is a moving and vivid depiction of life with early-onset Alzheimer's disease that is as compelling as A Beautiful Mind and as unforgettable as Judith Guest's Ordinary People.
I picked this book up after seeing an advertisement for the movie Still Alice, based on this book. It sounded like something I'd really be interested in reading and I definitely wanted to read it before I saw the movie. So I suggested this for my book club's next pick!
Normally, I would have had this book read in just a few short days, but with moving to a new house and beginning a remodel of the basement... took me a little longer! Even so, this book moved me so much. Every time I picked it up and started reading, I wanted to cry. I felt so involved in Alice's story and felt so much emotion towards her and her family. I've never really dealt with Alzheimer's in my personal life, but that didn't stop me from being heart broken for all those who suffer from this disease and their family and friends.
This book is really amazing, but so heartbreaking at the same time. Alice is a very accomplished professor of psychology at Harvard and is then diagnosed with early-onset Alzheimer's disease. As I read, I found myself struggling with her to comprehend being diagnosed, then struggling to remember things like appointments, struggling to remember what words to use, and finally, struggling to remember who her family and friends are. I felt like I was experiencing this with her. At one point, when I was so engrossed in the story, my husband came home and started talking to me about our basement project. I felt like every time I asked him something, I was repeating myself - kind of like when you're really tired or talk with someone in the middle of the night and don't really remember it in the morning? I realized it was just because I was so absorbed in this story and felt like I was Alice. To me, that's the best part of a book; being completely captivated that when you stop reading, you feel like you are still in that story. Obviously, I'm glad I'm not actually part of this story because it is so heartbreaking, but it really was an excellent book. I can't wait to read more of Genova's novels (I have one on my iPad waiting for me right now from Netgalley!). I cannot recommend this book enough. I really hope others enjoy it as much as I did!
Trailer of Still Alice