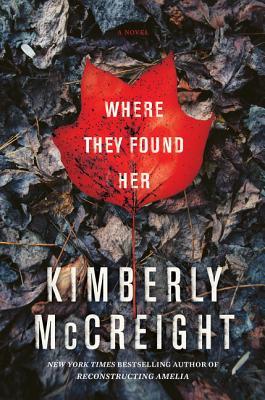 Where They Found Her by Kimberly McCreight
Publisher: Harper
Publishing Date: April 14, 2015
Format: Paperback, ARC
336 Pages
Links:
Goodreads
|
Amazon
|
B&N
Goodreads Rating: 5 Stars
Synopsis
An idyllic suburban town. A devastating discovery. Shocking revelations that will change three lives forever.
At the end of a long winter in well-to-do Ridgedale, New Jersey, the body of a newborn is found in the woods fringing the campus of the town's prestigious university. No one knows the identity of the baby, what ended her very short life, or how she wound up among the fallen leaves. But among the residents of Ridgedale, there is no shortage of opinions.
When freelance journalist, and recent Ridgedale transplant, Molly Anderson is unexpectedly called upon to cover the disturbing news for the Ridgedale Reader—the town's local paper—she has good reason to hesitate. A severe depression followed the loss of her own baby, and this assignment could unearth memories she has tried so hard to bury. But the history Molly uncovers is not her own. Her investigation unravels a decades-old trail of dark secrets hiding behind Ridgedale's white picket fences.
Told from the perspectives of three Ridgedale women, Kimberly McCreight's taut and profoundly moving novel unwinds the tangled truth behind the tragedy, revealing that these women have far more in common than they could have ever known. That the very worst crimes are committed against those we love. And that—sooner or later—the past catches up to all of us.
My Review
I received a free copy of this book in exchange for an honest review.
I couldn't wait to get my hands on this book and when I received a copy from the publisher, I was so incredibly excited! I really wanted to stop the book I was reading and start this one. Just like Reconstructing Amelia, this book sucks you in and won't let go! The synopsis got me interested, but the story and writing kept me reading. Molly is an interesting character and I liked her a lot. I felt so bad for all that she's gone through, but you can tell that the story she's covering really helps her come out of her depression and giving her something to work towards.
There are other characters who have chapters in their point of view, but I always felt like Molly was the main character and the others, like Sandy, Jenna and Hannah, are supporting characters. That being said, I really liked them all. I didn't like Jenna too much at first, but she changes a little towards the end and I feel like I can understand a little better why she's done what she did.
There's quite a lot that goes on in this book between the different characters and they're all connected somehow. It's fun finding out how each person fits into someone else's story and this book didn't let me down. I felt like I had a few ideas of what happened, but they changed often, keeping me on my toes! I would definitely recommend this to everyone (: If you liked Reconstructing Amelia, you'll definitely like this next novel by McCreight.