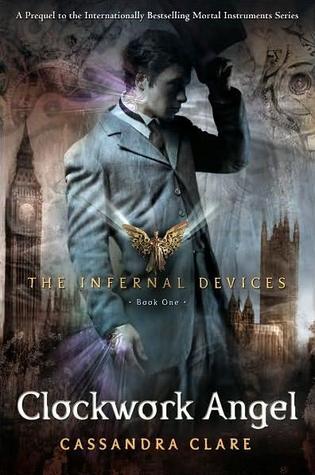 Clockwork Angel by Cassandra Clare
Series: Infernal Devices, #1
Publisher: Simon & Schuster
Publishing Date: Aug. 31, 2010
479 Pages
Format: paperback, won
Links:
Goodreads
|
Amazon
|
B&N
Goodreads rating: 3.5 stars
In a time when Shadowhunters are barely winning the fight against the forces of darkness, one battle will change the course of history forever. Welcome to the Infernal Devices trilogy, a stunning and dangerous prequel to the New York Times bestselling Mortal Instruments series.
The year is 1878. Tessa Gray descends into London's dark supernatural underworld in search of her missing brother. She soon discovers that her only allies are the demon-slaying Shadowhunters—including Will and Jem, the mysterious boys she is attracted to. Soon they find themselves up against the Pandemonium Club, a secret organization of vampires, demons, warlocks, and humans. Equipped with a magical army of unstoppable clockwork creatures, the Club is out to rule the British Empire, and only Tessa and her allies can stop them...
My Review
I won a copy of this book from Simon & Schuster in 2014 for a 31 days of reading giveaway. Unfortunately, it's been sitting on my shelf since then! I decided to pick this one up recently, and I'm really glad I did! I really liked this book and I'm very interested in reading the rest of this series and the Mortal Instruments series as well. It's full of fantasy and interesting characters. I wasn't sure if I would be super interested in this steampunk world. But once I started reading, I was hooked. I really liked the characters, especially Tessa, Will, and Jem; they were unique in their own ways. Will was a tough character to figure out, and I'm not sure I quite have, even after the book ended. And I feel really bad for Jem, but I can't elaborate without giving anything away! This book was full of adventure and suspense. I wasn't sure what was going to happen or which characters I could trust. Overall, it kept me interested and wanting to know more.