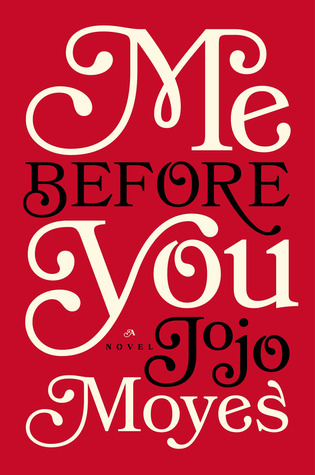 Me Before You by Jojo Moyes
Publisher: Pamela Dorman Books
Publishing Date: Dec. 31, 2012
Format: paperback, purchased
369 Pages
Goodreads rating: 5 stars
First read: March, 2014
Synopsis
Lou Clark knows lots of things. She knows how many footsteps there are between the bus stop and home. She knows she likes working in The Buttered Bun tea shop and she knows she might not love her boyfriend Patrick.
What Lou doesn't know is she's about to lose her job or that knowing what's coming is what keeps her sane.
Will Traynor knows his motorcycle accident took away his desire to live. He knows everything feels very small and rather joyless now and he knows exactly how he's going to put a stop to that.
What Will doesn't know is that Lou is about to burst into his world in a riot of colour. And neither of them knows they're going to change the other for all time.
My Review
This is a re-read for me! I wanted to read this again before I picked up After You, the sequel. It's been a little over a year and a half since I last read this and I actually forgot quite a bit, so I'm glad I read it again. See my first review
here
!
Last year, when I finished this book, I said it was easily one of my favorite books and one of the best book buying decisions I've ever made. I couldn't wait to re-read it, but I always have reservations about re-reading one of my favorites because I'm worried I won't like it quite as much. I couldn't have been more wrong! I absolutely loved this book just as much, if not more, the second time around! Everything I loved about it the first time was amplified the second time. I absolutely love Will and Louisa as characters. They are so incredibly real and I can easily relate to them. Will has had something horrible happen to him, and unfortunately, it changed his life forever for the negative. While I can't understand what it's like to be in his situation, I can empathize. He led a HUGE life before his accident and he struggles with not being able to do the same things.
On the other hand, Louisa leads a very quite, very simple, if not boring life. She works, she goes home, she sometimes sees her boyfriend. But once she begins working with Will, he pulls her out of her shell. Little by very little, we see her grow. She argues with Will, tells him when he's being a complete ass, but also goes along with his wishes to show him she can. She really is different from the beginning of the book.
And together, these two are beautiful. I cried so much throughout this book; more than I thought I would since I already knew what was happening! Part of me kept wishing this book would end differently. But at the same time, I realize the end is what makes this book so wonderful. I really can't get enough of this book or Jojo Moyes' writing!