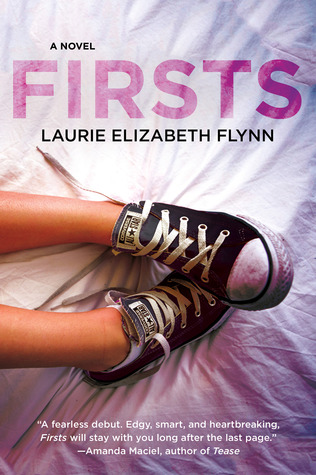 Firsts by Laurie Elizabeth Flynn
Publisher: St. Martin's Griffin
Publishing Date: Jan. 5, 2016
320 pages
Format: hardcover, ARC
Links:
Goodreads
|
Amazon
|
B&N
Seventeen-year-old Mercedes Ayres has an open-door policy when it comes to her bedroom, but only if the guy fulfills a specific criteria: he has to be a virgin. Mercedes lets the boys get their awkward, fumbling first times over with, and all she asks in return is that they give their girlfriends the perfect first time- the kind Mercedes never had herself.
Keeping what goes on in her bedroom a secret has been easy- so far. Her absentee mother isn't home nearly enough to know about Mercedes' extracurricular activities, and her uber-religious best friend, Angela, won't even say the word "sex" until she gets married. But Mercedes doesn't bank on Angela's boyfriend finding out about her services and wanting a turn- or on Zach, who likes her for who she is instead of what she can do in bed.
When Mercedes' perfect system falls apart, she has to find a way to salvage her reputation and figure out where her heart really belongs in the process. Funny, smart, and true-to-life, FIRSTS is a one-of-a-kind young adult novel about growing up.
I received a free copy of this book in exchange for an honest review.
I was really excited to get a copy of this book because it sounded really interested and unique. I loved Mercedes as a main character. I thought she was so sympathetic, even if I didn't agree with her choices of letting guys into her bedroom. Even so, she was interesting to get to know. The more I read, the more I understood why she did what she did. I really hated her mom, Kim; she acted like she couldn't care less about Mercedes and even congratulated her when she had boys over. It made me sick.
I felt so many emotions while reading this book. I was laughing sometimes, cringing at other times, and even tearing up. Zach is such a good guy, too! He sticks by Mercedes side throughout thick and thin. Obviously he wants more than to be just friends, but even though Mercedes doesn't, he doesn't give up. When all hell break loose, Zach, and their new friend Faye, are there to back her up and help her through it.
Seriously, this was a good book. I really enjoyed it and I can't wait to see what else Flynn has in store for us. This book felt real and I had such a hard time putting it down!