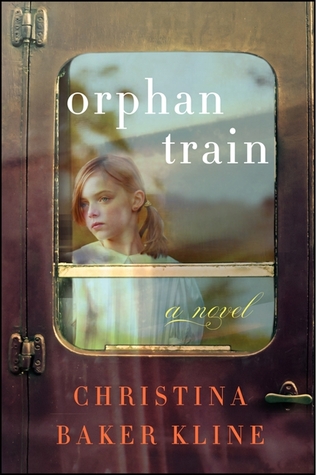 Orphan Train by Christina Baker Kline
Publisher: William Morrow Paperbacks
Publishing Date: April 2, 2013
Format: paperback
278 Pages
Links:
Goodreads
|
Amazon
|
B&N
Goodreads rating: 5 stars
The author of Bird in Hand and The Way Life Should Be delivers her most ambitious and powerful novel to date: a captivating story of two very different women who build an unexpected friendship: a 91-year-old woman with a hidden past as an orphan-train rider and the teenage girl whose own troubled adolescence leads her to seek answers to questions no one has ever thought to ask.
Nearly eighteen, Molly Ayer knows she has one last chance. Just months from "aging out" of the child welfare system, and close to being kicked out of her foster home, a community service position helping an elderly woman clean out her home is the only thing keeping her out of juvie and worse.
Vivian Daly has lived a quiet life on the coast of Maine. But in her attic, hidden in trunks, are vestiges of a turbulent past. As she helps Vivian sort through her possessions and memories, Molly discovers that she and Vivian aren't as different as they seem to be. A young Irish immigrant orphaned in New York City, Vivian was put on a train to the Midwest with hundreds of other children whose destinies would be determined by luck and chance.
The closer Molly grows to Vivian, the more she discovers parallels to her own life. A Penobscot Indian, she, too, is an outsider being raised by strangers, and she, too, has unanswered questions about the past. As her emotional barriers begin to crumble, Molly discovers that she has the power to help Vivian find answers to mysteries that have haunted her for her entire life - answers that will ultimately free them both.
Rich in detail and epic in scope, Orphan Train is a powerful novel of upheaval and resilience, of second chances, of unexpected friendship, and of the secrets we carry that keep us from finding out who we are.
My first thought when I finished this book a few days ago: I just put this book down and I already have a book hangover from it.
This book was chosen for my book club's February pick and I was really excited to read it. I had heard good things about it, but to be honest, I wasn't completely sure what it was about. And I'll admit that I barely knew anything about the orphan train movement in the early 1900's. But this book captured my attention from the minute I opened it. I've always loved learning about history and my dad's side emigrated from Ireland many years ago, so I was excited to learn Vivian did as well.
The historical story line in this book was clearly my favorite. I immediately empathized with Vivian/Dorothy/Niamh and couldn't wait to learn what happened to her with the different families she was placed with. I didn't mind the first family, but they clearly weren't that great to her. And I hated the second family (can't say more than that without spoiling it). The next family was obviously my favorite and she was treated really well. She ends up reconnecting with someone she met on the train, and I was so excited when that happened (again, I can't say too much more). Vivian definitely had a difficult life for many years, and even after she was adopted, her life wasn't exactly easy. We learn as the story unfolds just how much she had to endure.
Even though the historical line was my favorite, I still really, really enjoyed the present-day story line with Molly. I love how the characters' lives are very parallel, both growing up in the foster system. I didn't like Molly's family at all, but unfortunately, it portrayed a very real depiction of today's foster system, to which I'm happy it did. Molly was easy to relate to and you could tell that although she's gotten into some trouble, she really just wanted to find her place in the world. I didn't like her boyfriend; he seemed a little better in the end, but there was just something about him that rubbed me the wrong way.
I LOVED the ending of this book and thought it wrapped everything up perfectly. But honestly, the moment I finished this book, I was sad because it was over. I didn't want the story to end and I wanted to stay involved in Vivian and Molly's lives! I immediately went online to find more stories like it and seriously contemplated re-reading it right away. I didn't, but its still on my mind! I'm glad the girls at book club liked it just as much as I did! I've also recommended it to so many of my friends and colleagues since I finished. I cannot wait to read the other work by Baker Kline; I hope it's just as good!