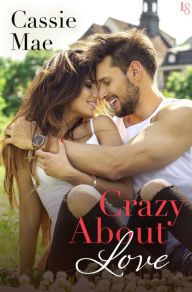 Crazy About Love by Cassie Mae
Series: All About Love, #3
Publisher: Loveswept
Publishing Date: June 14, 2016
Format: ebook, ARC
270 Pages
Links:
Goodreads
|
Amazon
|
B&N
Single again on Valentine's Day, struggling actor Alec Tucker agrees to help out his longtime friend—and unrequited love—Theresa Jones by filling in as one of the bachelors for her company's charity auction. Alec figures it couldn't hurt to meet someone new. Still, working with Theresa reminds him of all the reasons he never got over her. So it feels a little bittersweet when, out of nowhere, a beautiful young street artist buys a date with him for a whopping four grand.
Little does he know, Theresa's had a major change of heart. She's crushed when someone else wins a date with Alec—but she isn't going down without a fight. After a pep talk from her best friend, Theresa makes a desperate move that goes against her better judgment . . . and things only get crazier from there. But with Alec ready to move on and Theresa afraid she's pushed him away for good, maybe a little crazy is exactly what they need—before they both miss their shot.
I received a free copy of this ebook in exchange for an honest review.
This was a cute, quirky book that I enjoyed reading. I haven't ready anything else by Cassie Mae (aka Becca Ann) and I'm glad my first glimpse was this book. I really love books where friends become more, especially if they've been pining for each other for a while! One thing I did think was a little weird is how Theresa followed Alec on his date. I really wish she would have told him how she felt about him, especially since she had an idea that he felt the same way. But this is also what made the book quirky and fun. All in all, I thought this was a cute book and I'd recommend it to my friends!