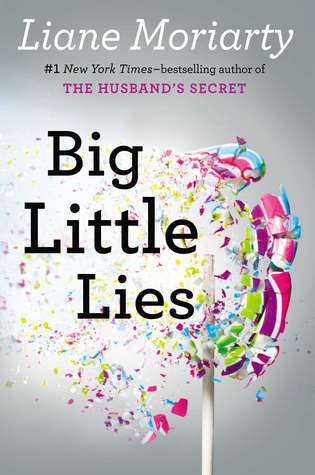 Big Little Lies by Liane Moriarty
Publisher: G.P. Putnam's Sons
Publishing Date: July 29, 2014
Format: paperback, purchased
460 Pages
Links:
Goodreads
|
Amazon
|
B&N
Goodreads rating: 5 stars
Big Little Lies follows three women, each at a crossroads:
Madeline is a force to be reckoned with. She's funny and biting, passionate, she remembers everything and forgives no one. Her ex-husband and his yogi new wife have moved into her beloved beachside community, and their daughter is in the same kindergarten class as Madeline's youngest (how is this possible?). And to top it all off, Madeline's teenage daughter seems to be choosing Madeline's ex-husband over her. (How. Is. This. Possible?).
Celeste is the kind of beautiful woman who makes the world stop and stare. While she may seem a bit flustered at times, who wouldn't be, with those rambunctious twin boys? Now that the boys are starting school, Celeste and her husband look set to become the king and queen of the school parent body. But royalty often comes at a price, and Celeste is grappling with how much more she is willing to pay.
New to town, single mom Jane is so young that another mother mistakes her for the nanny. Jane is sad beyond her years and harbors secret doubts about her son. But why? While Madeline and Celeste soon take Jane under their wing, none of them realizes how the arrival of Jane and her inscrutable little boy will affect them all.
Big Little Lies is a brilliant take on ex-husbands and second wives, mothers and daughters, schoolyard scandal, and the dangerous little lies we tell ourselves just to survive.
I couldn't wait to start this book! I received it as a Christmas present and I should have picked it up a lot sooner, but like so many of you, my TBR pile is never ending and always growing. So my book club finally picked this one to read and I couldn't have been more excited. Thankfully, this book lived up to everything I wanted it to be.
I was immediately sucked into this book. Each of these women appear so different. Jane is quite, shy, and like her name suggests, somewhat plain. Celeste, on the other hand, is beautiful and appears to have it all, with two cute twin boys and a doting husband. Madeline is the outspoken one of the group. Although they all seem to have things together, they are all broken in their own way. Celeste has a secret that she doesn't think she can share with anyone; Madeline's daughter has chosen her ex-husband over her; and Jane is struggling to be a single mother with a secret about her own past. We watch as Madeline and Celeste welcome Jane to their community and the three become good friends. They slowly open up to each other and their friendship continues to grow. We learn all of their secrets and the tension slowly builds to the schoolyard scandal and murder...
There were so many times during this book that my jaw dropped; so many twists and turns that I wasn't expecting, but added so much to the story. I couldn't put it down and stayed up way past my bedtime in order to finish this one! I cannot wait to see what the other girls in book club thought about this one. And I can't wait to get to Moriarty's other work! I have The Husband's Secret sitting on my shelf and I certainly won't be waiting too long to read that one!