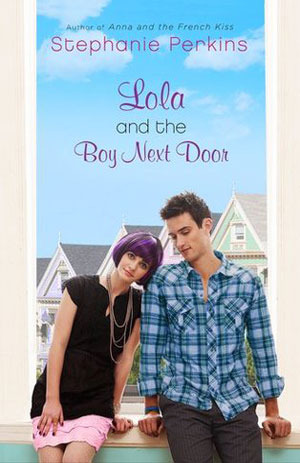 Lola and the Boy Next Door by Stephanie Perkins
Series: Anna and the French Kiss, #2
Publisher: Dutton
Publishing Date: Sept. 29, 2011
Format: hardcover
384 Pages
Links:
Goodreads
|
Amazon
|
B&N
Lola Nolan is a budding costume designer, and for her, the more outrageous, sparkly, and fun the outfit, the better. And everything is pretty perfect in her life (right down to her hot rocker boyfriend) until the Bell twins, Calliope and Cricket, return to the neighborhood. When Cricket, a gifted inventor, steps out from his twin sister's shadow and back into Lola's life, she must finally reconcile a lifetime of feelings for the boy next door.
My Review
I read Anna and the French Kiss a while ago and absolutely loved the story. From that point on, I knew I wanted to read the rest of the books in the series. It's taken me a long time to get here, but I finally read the second one, Lola and the Boy Next Door! I actually didn't know anything about this book when I picked it up; I just knew it was the second in the series. And I have to say, I will definitely be reading the third!
This was a really cute book. I loved Lola because she was so different from a lot of other YA characters. She has her own style and doesn't really let anyone change that. And Cricket was a neat character too. I liked that he changed his ways and made things up to Lola. And I also loved that Lola's parents are gay men; it really made the story fun and interesting. Obviously they aren't any different from straight parents, but I have to say that I don't think I've ever read a book with gay parents before. I really just love seeing diversity in books, so I was happy to read this.
Overall, really fun book. I loved Lola's personality and Cricket was a great supporting character. I even liked Calliope because I could relate to her a bit. I do think this is a great YA series and I'm on the bandwagon with all the other fans! (: