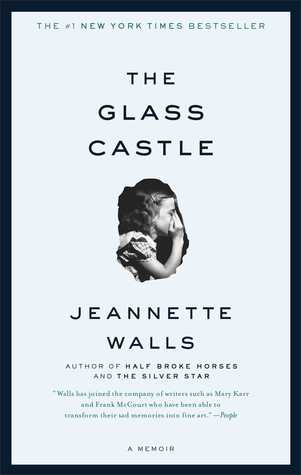 The Glass Castle by Jeannette Walls
Publisher: Scribner
Publishing date: March 2005
288 Pages
Format: paperback
Links:
Goodreads
|
Amazon
|
B&N
Goodreads rating: 4.5 stars
The Glass Castle is a remarkable memoir of resilience and redemption, and a revelatory look into a family at once deeply dysfunctional and uniquely vibrant. When sober, Jeannette's brilliant and charismatic father captured his children's imagination, teaching them physics, geology, and how to embrace life fearlessly. But when he drank, he was dishonest and destructive. Her mother was a free spirit who abhorred the idea of domesticity and didn't want the responsibility of raising a family.
The Walls children learned to take care of themselves. They fed, clothed, and protected one another, and eventually found their way to New York. Their parents followed them, choosing to be homeless even as their children prospered.
The Glass Castle is truly astonishing--a memoir permeated by the intense love of a peculiar but loyal family.
Captivating. That's the first word that comes to mind about this memoir. This book had been sitting on my shelf for a good couple of months... probably about a year. I had heard it was good, but was never in the mood for it and so I didn't get around to it. I finally decided to pick it up when I was going over to my in-laws for Christmas. I wasn't sure if I was in the mood to read it, but felt like I needed to since it was just sitting on my shelf. I immediately loved this book; Walls has a gifted way of telling her story. I felt so bad for her the entire time I read it. I know things like this happen all too often. But I still was shocked by some of the things her family went through and how her parents acted. I can't imagine growing up with this type of life, moving around constantly, not knowing whether you'll have food to eat, whether you'll go to school, or whether you have running water.
Nevertheless, Walls perseveres. Her sister moves to New York, she follows soon after, and together they start a new life. She slowly gets on solid ground by having a stable place to live, having a job, and going to school. Through all of her hard times, Walls continues to land on her feet. It clearly wasn't an easy childhood, and many people, unfortunately, would fall into the same cycle that her parents did. But she and most of her siblings were able to overcome that. I wish we knew a little more about what happened to Maureen, but I guess it really just shows what Walls' life was like when she finished this book; she didn't really know much about Maureen either.
I highly recommend this book! I can't wait to read more of her work, especially Half Broke Horses. I never thought I would like non-fiction and memoirs as much as I do, and this certainly won't be my last!