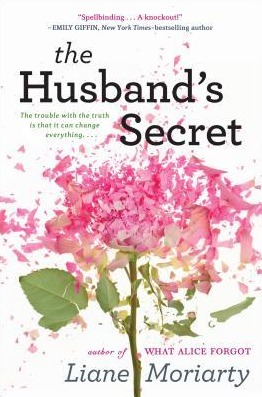 The Husband's Secret by Liane Moriarty
Publisher: GP Putnam's Sons
Publishing Date: July 30, 2013
396 Pages
Format: Hardcover
Links:
Goodreads
|
Amazon
|
B&N
Goodreads rating: 4 Stars
At the heart of The Husband's Secret is a letter that's not meant to be read
My darling Cecilia, if you're reading this, then I've died...
Imagine that your husband wrote you a letter, to be opened after his death. Imagine, too, that the letter contains his deepest, darkest secret—something with the potential to destroy not just the life you built together, but the lives of others as well. Imagine, then, that you stumble across that letter while your husband is still very much alive. . . .
Cecilia Fitzpatrick has achieved it all—she's an incredibly successful businesswoman, a pillar of her small community, and a devoted wife and mother. Her life is as orderly and spotless as her home. But that letter is about to change everything, and not just for her: Rachel and Tess barely know Cecilia—or each other—but they too are about to feel the earth-shattering repercussions of her husband's secret.
Acclaimed author Liane Moriarty has written a gripping, thought-provoking novel about how well it is really possible to know our spouses—and, ultimately, ourselves.
I was so excited to receive a copy of this book last year for Christmas! I wanted to read it right away, but then life got in the way (like normal). I finally got around to this one during this Christmas and I couldn't put it down. I read
Big Little Lies
earlier this year and immediately fell in love with Moriarty's work and writing style. I love the way she tells a story and how each of the characters' lives slowly intertwine with each other.
This book, like Big Little Lies, grabbed me from the beginning and didn't let go. Cecilia is a very interesting character; her life seems absolutely perfect, especially from the outside eye. But the more we get to know about her, the more we realize that it really isn't perfect, especially once she reads the letter from her husband. Meanwhile, Tess' life is not-so-secretly falling apart and Rachel has no idea what she's going to find out very soon.
The whole book only takes place over a few days time, but there's a lot of information packed into it! It's a very fast read and you won't want to put it down. The characters are so interesting and compelling; they each have their own stories but you find out more and more how their lives intertwine. I loved Big Little Lies and I really loved The Husband's Secret as well. I know Moriarty is going to continue to be a favorite author of mine and I can't wait to read more! What Alice Forgot is on my shelf waiting to be read, and hopefully soon! I highly recommend this book to everyone!