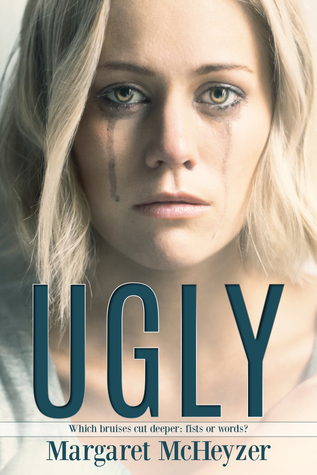 Ugly by Margaret McHeyzer
Publisher: Smashwords
Publishing date: Oct. 26, 2015
Format: ARC, ebook
If I were dead, I wouldn't be able to see.
If I were dead, I wouldn't be able to feel.
If I were dead, he'd never raise his hand to me again.
If I were dead, his words wouldn't cut as deep as they do.
If I were dead, I'd be beautiful and I wouldn't be so...ugly.
I'm not dead...but I wish I was.
*This is a dark YA/NA stand-alone, full-length novel. Contains violence.
*Might contain some spoilers*
I received a free copy of this book in exchange for an honest review.
I couldn't finish this book. I made it about 50% of the way thcfrough, but had to stop. It wasn't that the book was bad; but I couldn't keep reading. Maybe that doesn't make sense, but I'm going to try to explain. This book is about domestic violence, first from Lily's father, and then from her husband. I don't mind reading emotional books or books about difficult topics, and honestly, I was looking for an emotion, deep book when I started reading this. The problem that I had with reading this is that it was starting to affect my mood. I found myself really down and easily annoyed. It's weird, but sometimes it happens when I read certain books; not just sad books, but for example, I read Still Alice by Lisa Genova and I thought I was constantly losing stuff and forgetting things while reading it. But anyways, I just couldn't keep feeling like that. I've learned a lot about domestic violence during my criminal justice school and law school; I even took classes specifically about it. So I know it's not as simple as walking away, moving in with a friend, etc. I just didn't want to keep reading about it when it was seriously affecting my mood. So I stopped. I wish I could have finished, but this wasn't for me.