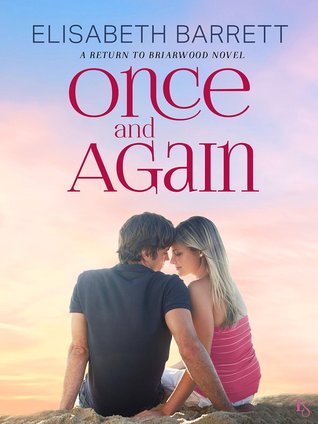 Once and Again by Elisabeth Barrett
Series: Return to Briarwood, #1
Publisher: Loveswept
Publishing Date: July 14, 2015
302 Pages
Format: ARC, ebook
Links:
Goodreads
|
Amazon
|
B&N
Goodreads rating: 5 stars
Growing up in Eastbridge, Connecticut, Carolyn Rivington was a young debutante who did whatever her parents asked. So when her father demanded that she break things off with the boy from the wrong side of the tracks or else, she did. Now Carolyn's family is deep in debt. She's no longer a member of the Briarwood Golf and Yacht Club, she's an employee. And the tanned, tattooed, dangerously handsome stranger who saunters into her lobby isn't just her new boss . . . he's also her first love.
The last time he saw Carolyn, Jake Gaffney was in the back of a police cruiser, handcuffed and humiliated. But seeing her again stirs other memories: a blanket on the beach, the moon above their heads, and the most expensive bottle of wine he could afford. Now the tables have turned. As a real-estate magnate and Briarwood's new owner, Jake doesn't have to answer to anyone. But now that he's back home, he's finding it hard to live down his old reputation.
Before they can move forward, Jake and Carolyn must face their pasts. But it'll take more than sizzling chemistry for them to heal old wounds and return to the love they once shared.
I received a free copy of this book from Netgalley in exchange for an honest review.
What a great way to start out my new year for books! This was a great novel by Barrett. I started it this morning when I was biking at the gym, and finished it while my husband was playing video games. We had a very relaxing day and I'm glad I was able to enjoy this book during it!
Carolyn used to be very wealthy, but she learned about a yea ago that her family doesn't have any money left, and she doesn't know what to do. So she returns to Briarwood, a club that she grew up attending with her family, and the same place she met Jake 15 years ago. They had a young, forbidden romance and both ended up broken-hearted. Jake has now come back to Briarwood as well, and the two have to learn to work together to make this business successful. Both of these characters were easy to love and relate to. Carolyn, although born with a silver spoon, really has no idea how to survive without her family's wealth. But she learns the hard way and perseveres. Jake on the other hand, grew up with next to nothing and has made himself into a multi-millionaire. Both characters are very charismatic, and I immediately loved Jake. Seriously, who doesn't love a tatted, rough-around-the-edges guy? No brainer for me!
I love that these two characters have a history together and are getting a second chance at love. They had a lot to overcome throughout the story, but made their love work. I also really loved that this novel wasn't just about these two. We find out a little about Jane, Carolyn's new friend, and her struggles, as well as legal problems that Carolyn is facing with her family. There's so much going on in this book and it was hard to put down! Which, clearly, I didn't do much, other than to get food (: Highly recommend! And I just got the second one in this series, which I can't wait to read!