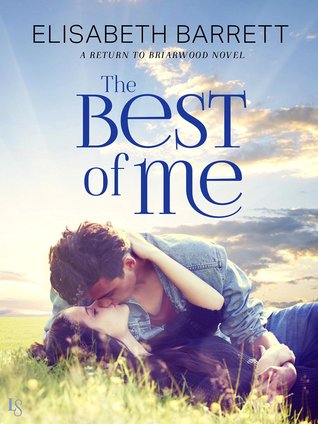 The Best of Me by Elisabeth Barrett
Series: Return to Briarwood, #2
Publisher: Loveswept
Publishing Date: Jan. 5, 2016
Format: ebook, ARC
Links:
Goodreads
|
Amazon
|
B&N
Synopsis
Jane Pringle never meant to fall for her boss. After landing a job as a pastry chef at the exclusive Briarwood Golf and Yacht Club in Eastbridge, Connecticut, she just wants to keep her son in a good school district and find some peace and quiet, far away from her manipulative ex-husband. But when Briarwood's charismatic co-owner takes an interest in her, Jane's best-laid plans go awry . . . in the sweetest way possible.
Rich and handsome, the grandson of one of the most powerful men in New York City, Preston North hasn't lived quite the charmed life everyone believes. His family taught him everything he needs to know about betrayal—and Press wants no more of it. What he wants is Jane. The gorgeous single mom is selfless and kind, plus she's got a backbone. To win her trust, Press just needs to shake off his playboy reputation.
They've each been burned in the past. But now Press and Jane will have to choose between letting their fears get the best of them . . . or breaking free and following their hearts.
I received a free copy of this ebook in exchange for an honest review.
I read the first book in this series over my Christmas break from work and I fell in love with these characters, the community, and Barrett's writing style. I couldn't wait to read Jane and Preston's story in this book, so I dove right in! Let me tell you, it didn't disappoint!
In Once and Again (review
here
) we met Jane and Preston, though briefly. We learned of struggles that Jane was going through, but not too much about Preston. In this book, we definitely find out more about Jane's struggles with her ex-husband and the lengths he will go to to make Jane's life difficult. Meanwhile, Preston appears completely in control of his life on the outside, but on the inside, he struggles with his father's death and his choices after. Both Jane and Preston are a little broken, but together, they complement each other perfectly.
This book has very developed characters and I loved reading their story. Both Jane and Preston are easy to like and sympathize with, and they're strong in their own ways. Throughout the story, we see their struggles, but they help each other and grow to become and even stronger couple. You don't necessarily need to read the first book in this series before reading this one. The characters overlap, but the stories are stand-alones.