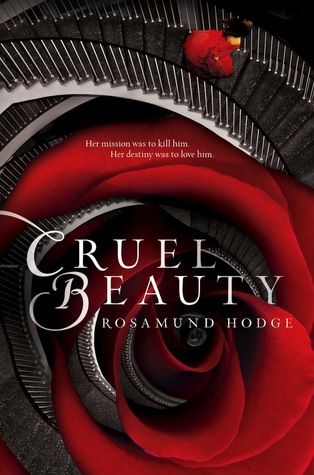 Cruel Beauty by Rosamund Hodge
Publisher: HarperAudio
Publishing Date: January 28, 2014
Format: audiobook, library
Links:
Goodreads
|
Amazon
|
B&N
Synopsis
Since birth, Nyx has been betrothed to the evil ruler of her kingdom—all because of a reckless bargain her father struck. And since birth, she has been training to kill him.
Betrayed by her family yet bound to obey, Nyx rails against her fate. Still, on her seventeenth birthday, she abandons everything she's ever known to marry the all-powerful, immortal Ignifex. Her plan? Seduce him, disarm him, and break the nine-hundred-year-old curse he put on her people.
But Ignifex is not what Nyx expected. The strangely charming lord beguiles her, and his castle—a shifting maze of magical rooms—enthralls her. As Nyx searches for a way to free her homeland by uncovering Ignifex's secrets, she finds herself unwillingly drawn to him. But even if she can bring herself to love her sworn enemy, how can she refuse her duty to kill him?
Based on the classic fairy tale Beauty and the Beast, Cruel Beauty is a dazzling love story about our deepest desires and their power to change our destiny.
My Review
I was really excited to listen to this book when I got it from the library. I fell in love with the cover and Beauty and the Beast is one of my favorite fairy tales. However, this one didn't live up to my hopes. Maybe it was because I was listening to it rather than reading it, but I just didn't enjoy it that much. I don't want to say I found it boring... but I kind of did. It didn't hold my interest and I kept waiting for something to actually happen between Nyx and Ignifex. I think I got through CD 7 out of 9 before I gave up on it. Hope others enjoyed it more than I did!