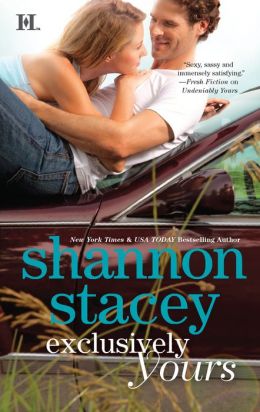 Exclusively Yours by Shannon Stacey
Series: Kowalski Family, #1
Publisher: Carina Press
Publishing Date: Jan. 1, 2012
Format: purchased, ebook
322 Pages
Links:
Goodreads
|
Amazon
|
B&N
When Keri Daniels' editor finds out she has previous carnal knowledge of reclusive bestselling author Joe Kowalski, she gives Keri a choice: get an interview or get a new job.
Joe's never forgotten the first girl to break his heart, so he's intrigued to hear Keri's back in town and looking for him. Despite his intense need for privacy, he'll grant Keri an interview if it means a chance to finish what they started in high school.
He proposes an outrageous plan - for every day she survives with his family on their annual camping and four-wheeling trip, Keri can ask one question. Keri agrees; she's worked too hard to walk away from her career.
But the chemistry between them is still as potent as the bug spray, Joe's sister is out to avenge his broken heart and Keri hasn't ridden an ATV since she was ten. Who knew a little blackmail, a whole lot of family and some sizzling romantic interludes could make Keri reconsider the old dream of Keri &Joe 2gether 4ever.
I loved reading this book! It's been sitting on my ebook shelves forever and I never really got around to it. I believe I downloaded it when it was free, so I figured I'd get to it at some point. I actually downloaded it because it not only sounded good, but one of my friends has a few Shannon Stacey books and really likes them. I figured if she did, then I probably would too!
I thought this was a fun book to read. Joe and Keri were high school sweethearts until Keri left and moved across the country. Joe becomes a famous author and he's journalist Keri's newest assignment. I really loved reading about Joe and Keri's high school relationship and seeing how they interact with each other after so many years. There's definitely some tension and the relationship is complicated. But watching them work out all of their problems is what makes this a great book.
Keri also has a broken relationship with Joe's sister, Terry. They were best friends growing up, but Keri then got into the "popular" crowd and Terry felt left behind. Not only did I enjoy watching Keri and Joe repair their relationship, but Terry and Keri's needed definite repairing as well.There's also a really great side story between Terry and her husband, who she's currently separated from. We watch Terry struggle begin on her own and coping with without her husband.
I would definitely recommend this book to anyone who love romances. I read that the next book is about Joe's brother Kevin, which I cannot wait to read! He seems like a great character and I'm really excited for his story.