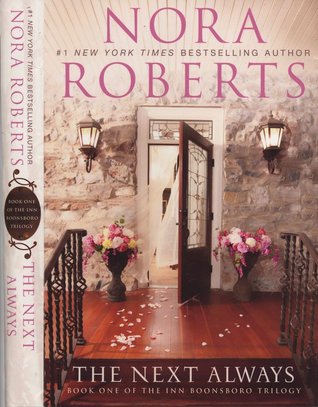 The Next Always by Nora Roberts
Series: Inn BoonsBoro, #1
Publisher: Berkley Publishing
Publishing Date: 2011
Format: paperback, purchased
324 Pages
Links:
Goodreads
|
Amazon
|
B&N
Synopsis
The historic hotel in Boonsboro has endured war and peace, changing hands, even rumored hauntings. Now it's getting a major facelift from the Montgomery brothers and their eccentric mother. Beckett is the architect of the family, and his social life consists mostly of talking shop over pizza and beer. But there's another project he's got his eye on: the girl he's been waiting to kiss since he was fifteen.
After losing her husband and returning to her hometown, Clare Brewster soon settles into her life as the mother of three young sons while running the town's bookstore. Busy, with little time for romance, Clare is drawn across the street by Beckett's transformation of the old inn, wanting to take a closer look . . . at the building and the man behind it.
With the grand opening inching closer, Beckett's happy to give Clare a private tour - one room at a time. It's no first date, but these stolen moments are the beginning of something new - and open the door to the extraordinary adventure of what comes next . . .
I'm a big Nora Roberts fan and have read so much of what she's written. I knew when I saw this one, I had to grab a copy. While I liked this book, it wasn't my favorite of hers. I thought the storyline was interesting and I love that the Montgomery men, along with their mom, are fixing up an old building and turning it into an inn. I also liked the ghost that lives in the inn - she's intriguing and I want to know who she was and how she's related to the house! I wish the story talked about her a little more (which surprises me since I've never been into ghost stories before).
There's also a little suspense in this book that I wasn't expecting at all! I've read a few of Roberts' books with suspense in them and she does it really well. I think because that's not what this story was about, it wasn't as good as I was expecting.
Even though there were some things I didn't like about this book, there were still many things I did! I enjoyed Clare's character. She clearly has had a tough life and is raising three young boys on her own. Beckett's had a crush on her since high school and now that he can, he's taking a chance on showing his heart to Clare. I love how Beckett interacts with Clare's children. He can empathize with them since he also lost his father and he shows them what it's like to have a father-figure around. Each of the three boys are so sweet, but I especially liked Harry, the oldest. He feels like he has to look out for his mom and the rest of his family since he's the "man of the house" now that his dad's gone. He's a cute kid! I own the third book in this series but not the second, so I think I'll just jump to that one unless I come across the second sometime soon.