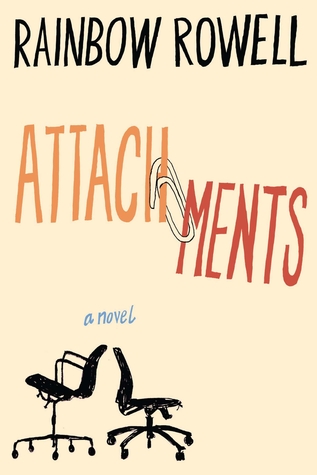 Attachments by Rainbow Rowell
Publisher: Plume
Publishing Date: March 27, 2012
323 Pages
Format: paperback, purchased
Links:
Goodreads
Goodreads rating: 4 stars
"Hi, I'm the guy who reads your e-mail, and also, I love you . . . "
From the award-winning author of Eleanor & Park, Fangirl, and Landline comes a hilarious and heartfelt novel about love in the workplace.
Beth Fremont and Jennifer Scribner-Snyder know that somebody is monitoring their work e-mail. (Everybody in the newsroom knows. It's company policy.) But they can't quite bring themselves to take it seriously. They go on sending each other endless and endlessly hilarious e-mails, discussing every aspect of their personal lives.
Meanwhile, Lincoln O'Neill can't believe this is his job now- reading other people's e-mail. When he applied to be "internet security officer," he pictured himself building firewalls and crushing hackers- not writing up a report every time a sports reporter forwards a dirty joke.
When Lincoln comes across Beth's and Jennifer's messages, he knows he should turn them in. But he can't help being entertained-and captivated-by their stories.
By the time Lincoln realizes he's falling for Beth, it's way too late to introduce himself.
What would he say . . . ?
I've had my eye on this book since I first heard about it and I finally grabbed a copy when I got my birthday gift card (:
What I really liked about this book is that it was a romance, but it was also about the main characters finding themselves. Lincoln moved back in with his mom after college and hasn't ever moved out. His heart was broken after his long-time girlfriend dumps him. And Beth is stuck in a relationship that's going nowhere. Throughout the story, we read about Beth's life through emails that she's exchanging with her friend Jennifer. Lincoln reads these emails as part of his job (though he breaks the rules a little to keep reading...). He realizes that he really likes who Beth is, without ever seeing her. And there's a fun twist with Beth too! What I like is that they really don't meet each other for most of the book and as each day passes, they learn a little more about themselves and what they need to be happy. Of course there is a bit of romance in there and it was really great to read. I also really like the style that this book is written in - it's emails! And then a few chapters of non-email writing. It's really just a lot of fun!