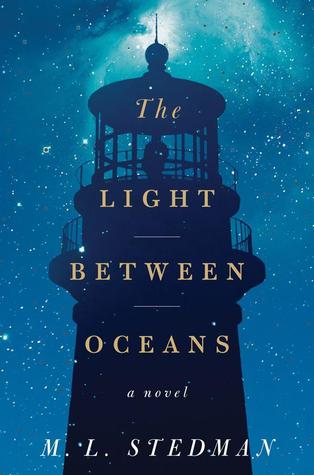 The Light Between Oceans by M.L. Stedman
Publisher: Scribner
Publishing Date: July 31, 2012
Format: hardcover, purchased
343 Pages
Synopsis
After four harrowing years on the Western Front, Tom Sherbourne returns to Australia and takes a job as the lighthouse keeper on Janus Rock, nearly half a day's journey from the coast. To this isolated island, where the supply boat comes once a season and shore leaves are granted every other year at best, Tom brings a young, bold, and loving wife, Isabel. Years later, after two miscarriages and one stillbirth, the grieving Isabel hears a baby's cries on the wind. A boat has washed up onshore carrying a dead man and a living baby.
Tom, whose records as a lighthouse keeper are meticulous and whose moral principles have withstood a horrific war, wants to report the man and infant immediately. But Isabel has taken the tiny baby to her breast. Against Tom's judgment, they claim her as their own and name her Lucy. When she is two, Tom and Isabel return to the mainland and are reminded that there are other people in the world. Their choice has devastated one of them.
M. L. Stedman's mesmerizing, beautifully written novel seduces us into accommodating Isabel's decision to keep this "gift from God." And we are swept into a story about extraordinarily compelling characters seeking to find their North Star in a world where there is no right answer, where justice for one person is another's tragic loss.
My Review
I don't remember when I first heard about this book, but I knew right away I wanted to read it, so I searched and finally found a copy. However, it still took me a while to finally get around to reading it, and even when I started it the first time, I ended up putting it down after a bit, though I don't know why. I decided it was time to finally pick it back up and I really enjoyed it!
This book was pretty different from anything I've read before. I haven't read many stories set in Australia, nor have I read much from that time period. Tom and Isabel live together out on a lighthouse island, just the two of them. They only have contact with others every three months when a ship brings them supplies, or when they get leave and stay on the mainland every so often. Isabel has had two miscarriages and one stillbirth and is having a very hard time moving on. But then a baby in a boat, with a deceased man, wash up on shore and Tom and Isabel decide to raise the child as their own, thinking she doesn't have any parents left. But their choice will later come to haunt them and they have to decide what's right and what's wrong.
Tom and Isabel are well-written characters and I really enjoyed reading about their life at the lighthouse. Funny enough, my bookmark was an ocean view with a lighthouse on it, which I didn't realize until I just about finished the book (: The book was really well written, and my heart ached for Isabel each time she realized she had a miscarriage, or found out the baby was stillborn. I have no idea how anyone copes with that kind of loss and I only hope that I never have to!
I wasn't really sure how this story would turn out. Do Tom and Isabel keep Lucy forever? Do they report her to authorities? I couldn't figure it out, but once things started unraveling, I was happy with it; either way, it would have been a sad, tough decision to make, but I think what happened in the book was the best outcome.