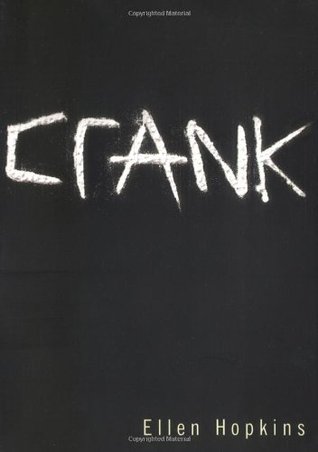 Crank by Ellen Hopkins
Publisher: Margaret K. McElderrly Books
Publishing Date: Oct 1, 2004
Format: Audio CD
Links:
Goodreads
|
Amazon
|
B&N
Synopsis
In Crank, Ellen Hopkins chronicles the turbulent and often disturbing relationship between Kristina, a character based on her own daughter, and the "monster," the highly addictive drug crystal meth, or "crank." Kristina is introduced to the drug while visiting her largely absent and ne'er-do-well father. While under the influence of the monster, Kristina discovers her sexy alter-ego, Bree: "there is no perfect daughter, / no gifted high school junior, / no Kristina Georgia Snow. / There is only Bree." Bree will do all the things good girl Kristina won't, including attracting the attention of dangerous boys who can provide her with a steady flow of crank.
My Review
I finally read a book by Ellen Hopkins! I've heard really good things about her novels, and have always wanted to read one. I borrowed the audio version of Crank from my library and listened to it while I was traveling through Italy and Greece on my honeymoon. I really prefer to read books as opposed to listening to them, but I enjoyed listening to this time.
Kristina, aka Bree, seems like a pretty typical teenager when the book starts. She doesn't really know her dad, though she's got a fairytale image of him in her mind. She begs her mom to let her visit him, and when she does, her life changes forever. She meets a boy who introduces her to crystal meth, or crank as its sometimes known on the streets. Pretty soon, she's spiraling out of control and will do anything to get her hands on more. And while I've never done drugs, or been tempted to, its not impossible to identify with Kristina as a character.
I've read some reviews of this book (after I finished it) of people who didn't like it because they couldn't identify with Kristina because she uses drugs and "had no reason to." One reviewer even said Kristina had a good life, so she had no reason to start; things weren't that bad for her besides a crappy dad. That makes it seem like a person can only do drugs because they have a crappy life. What about people who have everything they could possibly need and want and a great family? Are they 'not allowed' to do drugs because they have a good life? Or if someone has a crappy home life, they should be the ones doing drugs? I don't condone doing/taking drugs by any means, and I don't think its an answer to anything, but I don't think you can say one person has more of a right to start doing drugs that someone else. Does that make sense? It does in my head, but maybe not one I wrote it.
I wasn't surprised by some of the things that happened in this book simply because of the content. But it still made me really sad listening to it, and I just wanted to help Kristina so much. The ending, however, was a bit of a surprise to me. I can't talk about it too much because it would definitely have some spoilers, but it was just surprising!
I'm really glad I was finally able to read a book by Hopkins. I think she wrote this story beautifully, and I can't wait to read more! Glass is the next book in the series, followed by Fallout. I actually didn't know much about this book when I started it, and I didn't know it was a series until just a few minutes ago! Definitely going to grab the next two as soon as I can! I want to know what happens in Kristina's life!
Other Books In This Series