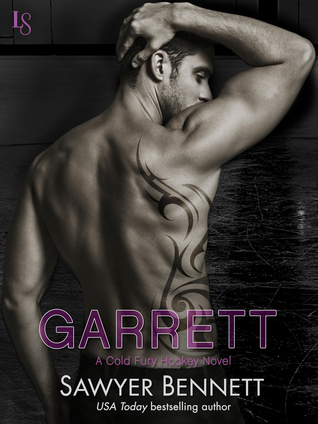 Garrett by Sawyer Bennett
Series: Cold Fury Hockey, #2
Publisher: Loveswept
Publishing Date: Feb 17, 2015
Format: ARC, ebook
Links:
Goodreads
|
Amazon
|
B&N
Synopsis
Carolina Cold Fury star Garrett Samuelson never wants to miss out on a single minute of fun. Whether he's playing hockey, hanging out with friends, or walking the red carpet with a new date on his arm, he lives every day to the fullest. When he meets Olivia Case, he sees someone who's exactly his type—confident, sexy, smart . . . his next fling. But the more he pursues her, the more Garrett shares a side of himself that other women don't normally get to see.
Olivia has been keeping a secret. While Garrett lives for the next thrill, Olivia's not sure she'll live to see the next day. She's undergoing treatment for some serious medical issues, and she doesn't have time for a relationship with no guarantees—especially one with a hot-as-sin womanizer who won't take no for an answer. But as she gets to know the real Garrett, Olivia can't help falling for him . . . hard. To reveal the truth would mean risking everything—but you can't score without taking the tough shots.
My Review
I received an advanced review copy of this ebook in exchange for an honest review.
Ok. I'm a huge hockey fan. I grew up watching my brother play for over 15 years. Best way to get to my heart from a romance novel? Add some sexy hockey players! Sawyer Bennett knew exactly what to do to make her readers fall in love with these characters. I loved Alex and Sutton (totally off topic, but I love that name!!), and I couldn't wait to get a copy of Garrett's story! I was so excited when I saw it on Netgalley and stopped what I was reading just to download this and start!
This book sucked me and and swept me away. I was immediately hooked by Olivia and Garrett's story and didn't want to put it down. You could feel the attraction and heat leaping off the pages. But besides just that, they had a really good connection. Olivia was able to teach Garrett how to trust and love, and Garrett really showed Olivia how to have fun, let go a little bit. If there are any more single Cold Fury players out there, I want their story!! :) I really want to name names about who would be a great story, but I can't without spoiling things! Ahh! I just can't get enough of this series or Ms. Bennett's work! If you haven't read her books yet, do it now!
Others in the Series