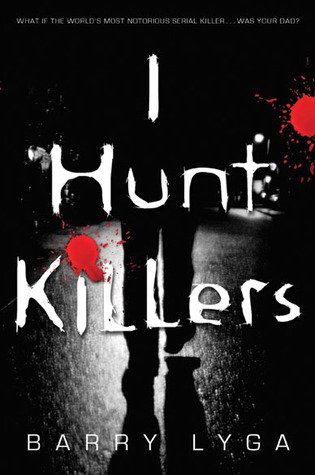 I Hunt Killers by Barry Lyga
Series: Jasper Dent, #1
Publisher: Little, Brown Books for Young Readers
Publishing Date: Apr 3, 2012
Format: ebook, ARC
366 Pages
Links:
Goodreads
|
Amazon
|
B&N
Synopsis
What if the world's worst serial killer...was your dad?
Jasper "Jazz" Dent is a likable teenager. A charmer, one might say.
But he's also the son of the world's most infamous serial killer, and for Dear Old Dad, Take Your Son to Work Day was year-round. Jazz has witnessed crime scenes the way cops wish they could—from the criminal's point of view.
And now bodies are piling up in Lobo's Nod.
In an effort to clear his name, Jazz joins the police in a hunt for a new serial killer. But Jazz has a secret—could he be more like his father than anyone knows?
My Review
I received a free copy of this ebook in exchange for an honest review.
I had been anticipating reading this book since I first heard about it! I love reading these types of books and have a fascination with crimes. I'm addicted to Criminal Minds and love reading mysteries and thrillers, so I figured this would be a great pick for me!
I really did enjoy this book from the moment I started it. It was very entertaining and I really liked Jazz. There were many times I wanted to yell at him and tell him to let the cops do their job because he's just a kid, but it all worked out! I definitely kept flipping the pages to find out what happened at the end. It leaves you hanging a bit, but makes me want to grab the next book in the series to find out! I thought this author did a great job getting into the mind of a serial killer and what it would be like for that person's family members. Throughout the whole story I felt so bad for Jazz and everything he has gone through. He definitely had my sympathy throughout the book.
But for some reason, this wasn't exactly what I was expecting it to be. I'm not entirely sure what I was expecting, but as much as I liked this book, it also fell a little flat for me. I feel like there could have been so much more to the story, and it didn't get there for me. That begin said, I still want to read the next book in the series to find out what happens!