Tell Me Something Tuesday is a weekly meme hosted by Heidi @
Rainy Day Ramblings
. Each week a new question is presented. Check out Heidi's blog for all the details :)
This week's question: Do you have to read a series in order no matter what?
Generally, yes. I want to know how the beginning starts, what happens to all the characters, and then find out what happens next in the following book. If I were to start a book in the middle of the series, chances are I wouldn't go back and read the first one because I would already kind of know what happened. Plus I have a little OCD and things need to be read in order.
The only time that I haven't read a series in order is when I was reading the Bride Quartet by Nora Roberts. I read the first one after I picked it up at a local used book store. I fell in love with the characters and the story line so I started looking for the next book. It's at the used book store I often go to, but its never in the clearance section, and I really only buy books that are $3 or under (if I didn't, I'd be completely broke). Well, since the second book is never there, I finally just moved on to the third, and finally listened to the 4th on audio. Reading the books out of order in this series was okay because each book was a different person's story.
I definitely won't be making a habit of reading them out of order though. It just doesn't seem right to me! I feel like I miss so much of the story because background and the main plot are often developed in the first book. Long story short, I guess I prefer to read them in order, but there has been a time when I didn't - and I survived! (:
------------------------------------------------------------------------------------
Top Ten Tuesday is a weekly meme hosted by the
The Broke and the Bookish
. Every week she posts an idea for a 'Top Ten' list relating to books, and encourages other book bloggers to respond and participate. All the details are listed on her site.
This week's topic: Top ten books about friendship
1. Harry Potter - kind of a given, but I couldn't leave it out!

2. Sisterhood of the Traveling Pants
It's a bit of a romance as well, but the friendship between Will and Louisa is so moving and really the main theme of the story.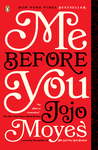 4. Faking Normal
5. The After Girls
6. The Perks of Being a Wallflower
While I didn't love this book, I think the friendships in here were pretty realistic